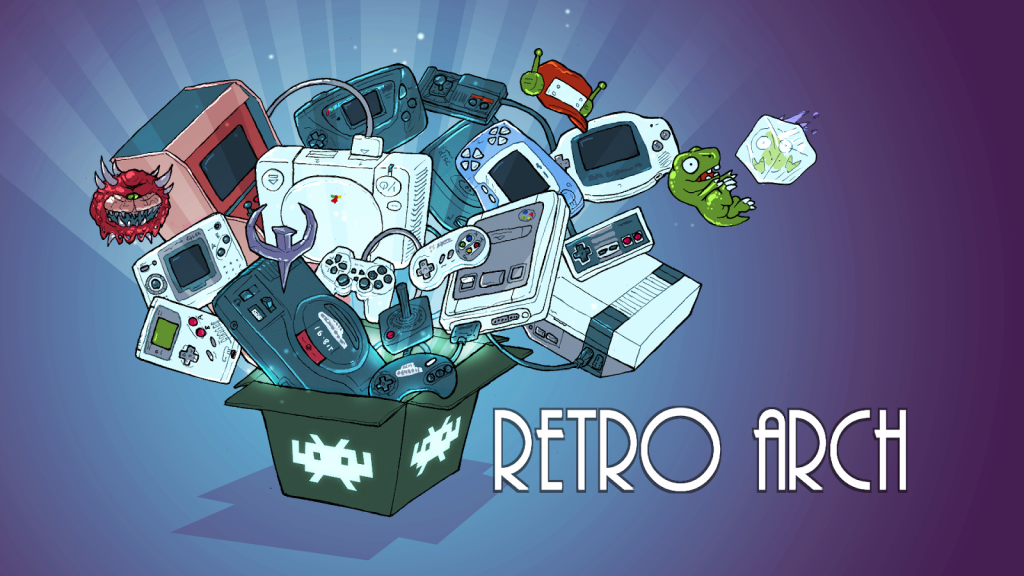 RetroArch 1.9.2 has just been released.
Grab it here.
Remember that this project exists for the benefit of our users, and that we wouldn't keep doing this were it not for spreading the love with our users. This project exists because of your support and belief in us to keep going doing great things. If you'd like to show your support, consider donating to us. Check here in order to learn more. In addition to being able to support us on Patreon, there is now also the option to sponsor us on Github Sponsors! You can also help us out by buying some of our merch on our Teespring store!
Release notes
PlayStation Vita users will be happy to learn that the issues with gpSP (Game Boy Advance emulator) are now resolved, and it should work as reliably as it did before 1.9.1 (and perhaps even better now thanks to increased performance). We hope you get a lot of mileage out of this core as a lot of work and effort went into it to really optimize the performance of this core over the past few months!
Text To Speech support is now enabled for the macOS Universal build. You can access this by going to Settings -> Accessibility and enabling 'Accessibility Enable'.
Some nice changes under the hood that are more technical in nature: config file loading performance has been improved immeasurably which should help out with initial startup times of RetroArch, loading config files as well as loading shader presets. Core info file loading itself has also seen many performance improvements. We are aware that despite all this, loading all the assets in the more feature-rich menus like MaterialUI/XMB/Ozone can still take a long time on systems encumbered by slow disk I/O, but we have some special things in store for future versions that should increase asset loading performance significantly.
There is now multi soft-patching file support. We will explain this in more detail below.
Highlights
Multi soft-patching support
If an IPS/BPS/UPS patch is found, will replace the last character in the filename with a counter and loop until another patch is found (in any format).
Example matching filenames:
Contra (Japan).nes
Contra (Japan).ips # Applied first
Contra (Japan).ips1 # Applied second
Contra (Japan).ups2 # Applied third
…
Notice that if one filename breaks the loop, the following patches won't be applied too. e.g.:
Contra (Japan).nes
Contra (Japan).ips # applied
Contra (Japan) (Translation).ips1 # Partial name match, not applied
Contra (Japan).ups3 # Not applied either
…
Enhanced 'Load Content' file browser search functionality
1.9.2 adds the same search filter functionality that currently exists for playlists to the file browser when selecting Load Content. This means:
When navigating the filesystem via the file browser, the user can press RetroPad X (or /, etc.), and enter a search term
This becomes a filter – all matching entries will be displayed
The user can then perform another search to further refine the results. Up to 8 filters may be stacked in this fashion
Pressing 'cancel' clears the last entered filter
For example:
In order to support file browser navigation, the search filter implementation had to be rewritten. Instead of having a single menu-driver-level search filter, independent search terms are now stored for each menu list. This is a far more robust solution, and means that filters can be enabled for other menus far more easily (and without any hacks). To demonstrate this, 1.9.2 also enables search filters when selecting shader presets/passes via the file browser (I will try to add this in more places as time permits):
Finally, 1.9.2 makes the following changes to existing search functionality:
Entering a search term consisting of a single Latin alphabet character will now always jump to the first entry whose first character matches – i.e. we no longer apply search filters in this case, since a single alphabet character filter is not useful. This means single character searches can be used for fast alphabet navigation
When searching file browser lists, the 'utility' entries (e.g. Parent Directory) are ignored, since they have no bearing on the actual list content (i.e. searching for p will now jump to the first p file – previously, it would always jump to Parent Directory…)
When performing non-filter searches, the entry labels used in each comparison now exactly match what is printed on screen by the menu driver. Previously, raw file_list values were used, which are often the same, but not always (e.g. in a number of cases, this is the difference between searching against full file paths vs. path basenames, which can produce erroneous results)
In addition to all this, 1.9.2 also enables search filter support when using the file browser to select cheats and overlays.
Optional menu screensaver animations
At present, when using XMB/GLUI/Ozone, enabling the menu screensaver will cause the screen to be blanked when the screensaver timeout has elapsed. 1.9.2 adds three optional animations that may be displayed instead – these can be selected via the new Settings > User Interface > Menu Screensaver Animation entry; animation speed may be adjusted via Settings > User Interface > Menu Screensaver Animation Speed. The options are as follows:
OFF: Screen will be blanked
Snow:
Starfield:
Vortex:
These effects are rendered using font glyphs; the performance overheads of all the animations are therefore low. This should also give you some indication as to how we are planning to reduce file I/O overhead across the board when it comes to asset loading, but that is something that we will be unveiling for a future release!
When using GLUI/Ozone, the screensaver will be tinted (somewhat) according to the current menu colour theme (XMB uses a fixed screensaver colour, since it does not have a 'proper' colour theme implementation).
OpenDingux beta: Add 50Hz support
All devices running OpenDingux Beta have native support for both 60 Hz and 50 Hz display modes. 1.9.2 enables 50 Hz functionality in RetroArch. The refresh rate can be toggled between 60 Hz and 50 Hz via the Settings > Video > Output > Vertical Refresh Rate menu entry; the value can be saved on a per-core/content directory/game basis via regular config overrides.
This makes OpenDingux devices (running the Beta OS) pretty much the only affordable/easily available handhelds that can run both NTSC and PAL content smoothly. The VICE core in particular benefits enormously from this addition.
OpenDingux beta: Fix IPU scaling when running GB/GBC/GG/NGP-resolution content
Further testing of the OpenDingux Beta port has revealed several more resolutions which are mishandled by the IPU hardware scaler. 1.9.2 updates the resolution blacklists accordingly, fixing scaling for the following content:
Gameboy (+ Color)/Game Gear at native, x2 and x3 resolutions
Neo Geo Pocket (+ Color) at x2 resolution
Changelog
1.9.2
3DS: Enable graphics widgets / overlays
3DS: Load texture images as BGR colors
3DS: Change default asset directory
CHEEVOS: Allow rcheevos_patch_address to be called on game without achievements
CHEEVOS: Update achievement memory maps (add Supervision)
CONFIG/FILE: Use hash map to optimise key/value lookups
CORE INFO: Performance optimisations + code clean-ups/refactors
CRT/SWITCHRES: Fixed CRTSwitchRes framebuffer bug
DISCORD/RPC: Fix regression
DRM: set the correct video mode
FASTFORWARD: Enforce minimum fastforward_ratio of 1.0
FONTS/FREETYPE/STB_UNICODE/BITMAPFONT: Prevent texture bleed when rendering text at non-integer scales
INPUT: Ensure that 'retro_set_controller_port_device' is called when updating 'Max Users'
INPUT/XEGL/MOUSE: Fix xegl_ctx.c mouse activation
INPUT/SDL: Fix crash in SDL input driver when analogs are bound
INPUT/POINTER: Add scaling to pointer input
INPUT REMAPPING: Fix regression on loading file
INPUT REMAPPING: Fix regression where disabling input remapping would disable input
IOS: Disable system button gestures on iOS 14
IOS: Prevent potential crash on controller connect – randomly would get a crash when connecting a game controller while RA was running
LAKKA: Add menu for time zone setting
LOGGING: RARCH_LOG_V checking for verbosity level is not necessary and can cause issues; removed said check.
LOGGING: Silence inappropriate cheatfile logging
IOS/MAC: Add CPU VFP unit detection for Darwin
MAC: Swallow 'escape' key being pressed – would previously make the game toggle between fullscreen and windowed
MAC: Intel and ARM64 timer change proposal.
MAC/ARM64: run_fast_mode disabled for 64 bits invalid instructions.
MAC/OPENGL: Fix codesigning issue
MAC/UNIVERSAL: Add TTS translation service support.
MENU: Add optional menu screensaver
MENU: Add search filter support to cheats and overlays file browser menus
MENU/FILEBROWSER: Enhanced 'Load Content' file browser search functionality
MENU/INPUT: Block accidental diagonals in menu navigation
MENU/RGUI: Add option to disable menu transparency
MENU/RGUI: Fix display of 'Video > Scaling' menu when 'Lock Menu Aspect Ratio' is enabled
MENU/MATERIALUI: Add icon to 'Turbo Fire' menu entry
MENU/OZONE: Ozone Dracula theme
OPENDINGUX/BETA: Fix IPU scaling when running GBA-resolution content
OPENDINGUX/BETA: Add 50Hz support
OPENDINGUX: Enable 'SaveRAM Autosave Interval' by default
PATCHES: Added multi-softpatching support + OSD messages for patches
RHMAP: Track the complete string in rhmap
VITA: Align VM block size to 1MB – should fix one of the issues with gpSP
WINDOWS/GDI: Fix non-ASCII text rendering
XEGL: Fix mouse not working when using OpenGLES with X11