PlayStation Classic Boot Menu + RetroArch Christmas 2018 public BETA
Due to the efforts from CompCom and other members of the ModMyClassic community we are happy to announce the pre-release of the new PlayStation Boot Menu + RetroArch for this year's Christmas holidays!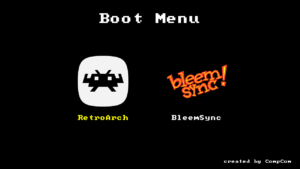 Whilst this pre-release is a working beta of a future development of BleemSync, we felt that you guys should be able to give a try and have some fun with it over the holidays.
Included in this pre-release is the Boot-Menu by CompCom, RetroArch for the PlayStation Classic and an initial batch of 91 cores. (Emulators) Please note that this is a pre-release of an upcoming module and development! This means that we are expecting some issues and shouldn't be considered as a final release. This includes all of the 91 cores listed for the console, we haven't had time to fully test or polish the builds for the PlayStation Classic but the majority should work absolutely fine.
Because of this, we ask you that you please notify us of any issues you encounter in our PlayStation Classic support channel in our discord here. We thank you in advance for your feedback and we will work on making improvements/fixes based on any feedback given to us.
To download and read how to use please go to: https://modmyclassic.com/?page_id=1229 for the full instructions and links.
Everyone at ModMyClassic would also like to wish you a happy Christmas and happy holidays!